Results of the 2023 Addingham Environment & Civic Society Photo Competition
The competition this year drew a smaller number of entries than previously although a high standard was maintained.
There were five categories listed below with the first, second and third place prize winners, their images and the judges officiating, drawn from members of Ilkley Camera Club together with our very own Jim Robinson.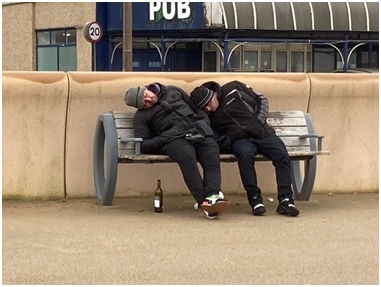 John Fontana, as curator of the competition, undertook the responsibility of choosing the overall competition winner, and that is Anne Clarke with 'Morecambe'
John commented:
'Morecambe, well I suppose it could be anywhere really, don't want to upset the good folk of the town. However apart from being humorous, it would also fit into a street photography category. I like the arrangement of three linked subjects, the pub sign, the two, maybe inebriated, gentlemen, and the empty wine bottle. It really tells a story to the viewer. For me, as a photograph, it just falls down by the top cutting through the "pub" sign. But again, well done to the photographer'.
I would add that I loved the three elements of the pub sign, the beer bottle and the two sleeping men following a wonderful curve in their slumped position.
Well done!
Thanks to the judges and to all of those who contributed.
---
The Addingham category judged by Jim Robinson
First prize
Don Barrett with 'The Piece Hall'

Second prize
Debs Griffith with 'Autumn at St. Peter's'

Third prize
Don Barrett with 'The Hen Pen'
---
The Black and White category judged by Mark Waddington
First prize
Don Barrett with 'Lest We Forget
Second Prize
Don Barrett with 'St Peter's'
Third prize
Fiona Mann with 'Moon view'
---
The Humour category judged by David James
First prize
Anne Clark with 'Morecambe'
Second prize
Don Barrett with 'Sleeping Elf'
Third prize
Don Barrett with 'Nothing Happened'
---
The Landscape category judged by Stu Thompson
First prize
Don Barrett with 'Derwent Water and Keswick'
Second prize
Robert Mann with a 'Sunset Field View'
Third prize
Phil Robins with 'Llyn y Gaddir'
---
The Wild Life category judged by Julia Kay






First prize
Fiona Mann with 'Dragonfly'
Second prize
Don Barrett with ''Wild Bees on Dahlia'
Third prize
Anne Clarke with 'Tawny Owl'
---