Heritage Projects
New Addingham High Mill Information Board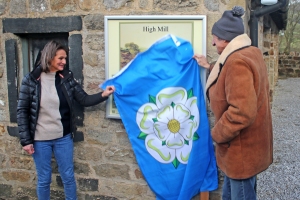 200 years ago, Addingham was a hive of textile industry with hundreds of mill workers click-clacking to work in their clogs. High Mill, originally a Medieval corn mill, was extended to include two spinning mills in the late 1700s which was a 'boom-time' with new textile mills being rapidly built in Addingham and across the north of England.
The Heritage Group has just unveiled an Information Board at the mill, the first of its planned boards marking the development of industry in the village. This new board, designed by Don Barrett, features a painting of the mill by J M W Turner, a photo of it at the end of its working life and a brief history. It is positioned, opposite the bottom of High Mill Lane, so that it will be passed by up to 5,000 Dales Way Path walkers each year and so inform both visitors and residents.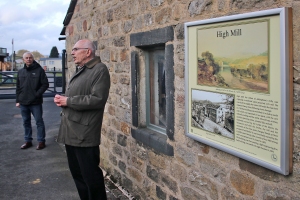 It was unveiled on 15 February by Chris Cobley and Suzy Stewart in front of an audience of about 40 members and locals. Chris Cobley, a mill resident and Heritage Group member involved in preparing the board, said "It will really put High Mill on the map, together with its long and fascinating history."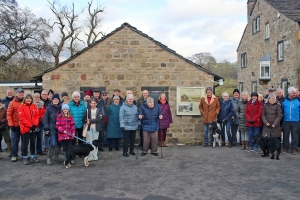 "We have been planning this initiative for some time," said Don Barrett "but covid and other problems delayed implementation. We are delighted to now have the first board in place and are very grateful to the residents of High Mill and Suzy Stewart of Hamiltons Restaurant next door to the Mill for jointly funding the project".
After the unveiling everyone was invited to Hamiltons restaurant for a celebration tea, generously provided by Suzy, with extra cakes from Jackie Olive – a most enjoyable event!
---