Photo Archive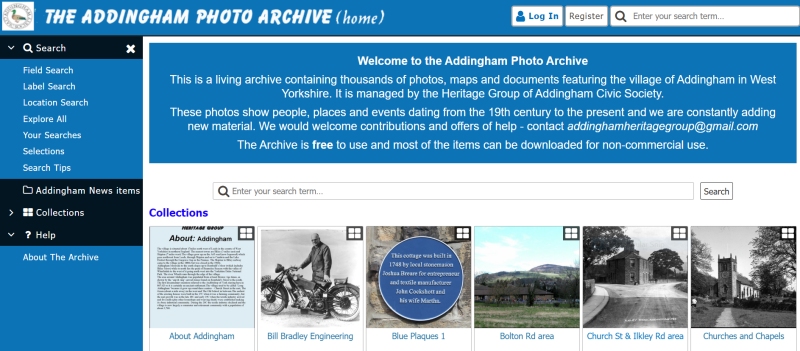 Welcome to the Village archive of photographs, pictures and other media showing Addingham through the years. The archive is run by a team of dedicated volunteers from the Society's Heritage Group. This huge amount of material has been collected over many, many years with the earliest by local photographers and historians Hilda Holmes and Kate Mason. Contributions have come from many others of course with the most recent items provided by the Society's President Don Barrett.
The Addingham Photo Archive is owned and managed by the Society.
It contains thousands of village photographs, maps and documents.
It is free to use and all material can be downloaded.
Click here to go to the Addingham Photo Archive.
---
Our Photo Archive Wins an Award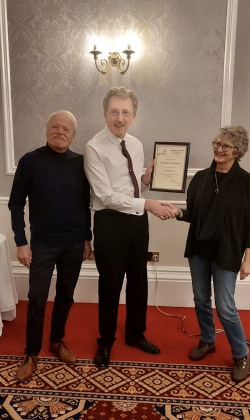 Last autumn our Heritage Group submitted an entry to the Peter Spawforth Awards. This is a competition run by the Yorkshire and Humberside Association of Civic Societies (YHACs) and is designed to celebrate the achievements of Civic Societies. In the past our Civic Society has won 1st prize for the creation of the MUGA, 2nd prize for the work of the Environment Group and in 2020 we won 1st prize again, for our work engaging with the young people of Addingham.
Our entry for the 2020 – 2022 period celebrated the huge project undertaken by our Heritage Group to create the Addingham Photo Archive. If you haven't yet had a look, do take time to go to the website Addingham Photo Archive. Members of the Heritage Group have uploaded over five thousand local images and there are plenty more being worked on as I write.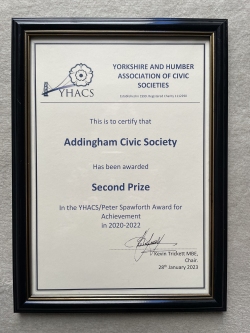 So in January, Jim Robinson and Gill Battarbee represented our Society at the YHACs AGM in Harrogate when the results of the competition were to be announced. Jim has been a YHACs trustee for some years and this was his final meeting before stepping down. As it turned out it was also his final "official role" as our Civic Society Chairman as he and I were delighted to receive 2nd prize on behalf of our Heritage Group. We received a framed certificate and £100 presented by YHACs Chairman Kevin Trickett.
Our congratulations to Halifax Civic Society for their winning entry, "The Wakefield Gate" also known as the Magna Via, in which they have opened up a fascinating walk following an ancient route eastwards.