Planning Introduction
Planning has been a core function of the Society since its inception. It is undertaken by a small dedicated group of Members, some of whom have professional experience of planning, architecture and the environment. The Planning Sub Group has a brief to represent the interests of Members and residents of Addingham and Wharfedale in all aspects of planning, both at a local and national level. This includes over-arching Government Policy and Legislation together with Local and Neighbourhood Plans. Over recent years meetings have been conducted with Ministers, our Local MPs and Bradford
Planners. Submissions have been made to Bradford's emerging Local Plan, the Neighbourhood Plan and Government planning proposals.
All planning applications in the Addingham area are scrutinised and checked for compliance with the Neighbourhood Plan and local environmental sensitivities. Where appropriate formal comment is made, particularly where a precedent is likely to be set, or the environment / Conservation Area could be adversely impacted.
We have a holistic positive approach to planning and see it as an invaluable tool to continually improve our community, providing the right homes, facilities and environment, whilst conserving its heritage for future generations.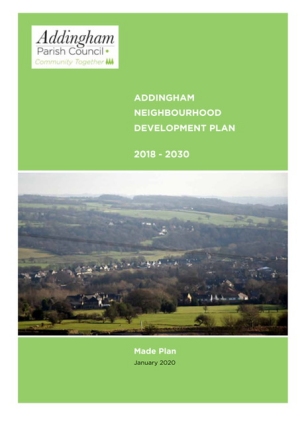 Here's a summary of what the Group does:
Considers and comments on national, regional and local planning policy.
Considers and comments, where appropriate, on local planning applications, with reference to Addingham'sNeighbourhood Plan
Monitors development within the Village Conservation Area and any proposals impacting designated Village Green Space or the overall green environment
Considers and comments on proposals which could have an impact on pollution, local water courses or flooding