Community Pétanque Court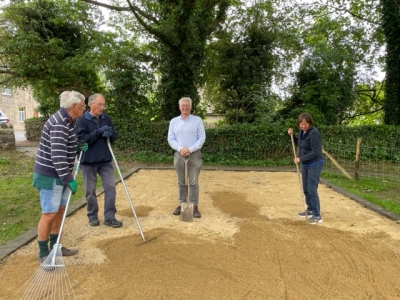 7th June 2023
A special thanks to the Civic Society volunteers for resurfacing the court.
Those of you who know your way around Addingham, will be aware that there is a Pétanque (Boules) terrain (not court!) located in the centre of the village adjacent to the War Memorial. Opened a couple of years ago by the Society this Community facility which is free to use, and is very popular during the summer months. On the back of its popularity we are frequently being asked about ..….'What are the rules'? So, in response we will arrange for a simplified set of rules for the game, to be fixed to the back of our Pétanque sign located at the side of the terrain. It will also have a QR code which will take you to our website where you can check out these rules, if you are unsure whilst playing.
Alternatively, click here to to access the rules and if you want to read the comprehensive set of official rules as stipulated by the governing body the Fédération Internationale de Pétanque et Jeu Provençal (FIPJP). Then again just click here.
To find out more about Pétanque England and their clubs then click here.
We have also purchased a couple of sets of boules which may be loaned for a small deposit. Many thanks to the manager at the Fleece who has kindly agreed to keep the sets at the ready.